Fake Opinions Spam Goes Mainstream & Affects Negatively Consumer Behavior.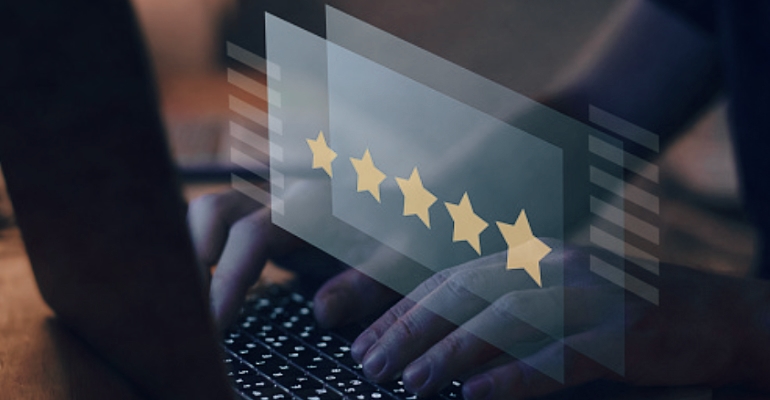 How do you choose web hosting, a cloud service provider, or any other provider of intangible services? Are your decisions influenced by any 'Top', 'Best' providers publications, or review websites? Have you ever bought anything that anyone suggested in an unsolicited email message?
From Nigerian SPAM To AI-driven Scam
There are certain trends in SPAM, phishing, and scam emails sent to peoples' inboxes. In the 1990 and early 2000's it was Advance-fee scam (also knows as "Nigerian SPAM"), where "oppressed millionaires" asked you for a bank account where they'd deposit millions offering you lucrative commissions to help them "keep their money".
Another form of scam activity conducted by email has long been emailing messages that come from the banking of financial institutions. Such emails requested you to click on certain links and log in with a username and password to fix something.
There were also fake emails that claimed to be sent from IRS or other national tax authorities who requested the user to click on a certain link in order to fix any tax issue.
Around the mid-2000s online scammers started flooding the e-commerce marketplaces where online traders register to sell their products and services with fake reviews. Their purpose was to manipulate the ratings of products and services. Opinion SPAM has been "discovered".
With the emergence of social networks, the so-called "social bots" started operating and still do. The social bots manage millions of fake social accounts that are aimed at accessing your email address and other personal data and subsequently using it for various malicious activities.
In the middle of the last decade, the world wide web has been hit by one of the most dangerous phenomena – fake news. Unlike the previous malicious activity that was targeting our pockets, fake news was invented to damage our brains. It eventually happened. Tens of millions, even hundreds of millions of people worldwide got caught by fake news and fake journalism and still are.
With the advancement of AI-based technologies, AI-driven SPAM and scam activities emerged. AI-based software systems are playing with our lives, trying to manipulate reality and produce and sell us fake alternatives, which are often hard to distinguish from the real ones.
Scam & All Fake Getting Sophisticated
In 2023, consumers can expect a more sophisticated sequel of the opinion scam of the mid-2000s. Be prepared for the Internet full of fake reviews and opinions – either negative or positive. Expect an "Opinion-based Blackmailing"! Within the last 6 months the number of e-mail messages received on HostColor's own email accounts and by our clients from senders who claim to offer "Review Services" has grown a lot. Such emails say anything like the one below:
"We provide reviews services at, GMB Google Maps, Trustpilot, Facebook, eBay, Guildquality, Goodreads, ResellerRatings, Walmart, GlassDoor, FanReviews, Quora, Financesonline, BBB, TestFreaks, Tripadvisor, Foursquare, Appexchange, and other similar review sites.
We also provide ratings and reviews on Appstore, iTunes, Google Play Store, YouTube Subscribers, "LinkedIn, Twitter, Instagram, Facebook Page, Fb posts likes, comments, and followers, Fb Group members, and other similar services.
Specific country-based reviews/services are also available like "USA, Canada, UK, China, France, Spain, Germany, Russia, Australia..."
Marketers claim that user-driven reviews are key to success in e-commerce. They say how important is to have a user drive content in your websites and positive user reviews about your business. Well, many marketeers' spread various forms of ordinary foolishness around the web... and then try to take advantage of them. Many marketing firms have already jumped into the "Opinions" business. They create new departments or separate teams for the purpose of flooding the major search engines and marketplaces with fake opinions, posted either by AI-based systems or people who have never used or even tested the product or service of the vendor they publish reviews about.
A Story with Fake Negative Reviews in Google
In 2022, we at HostColor.com ourselves were hit by a bunch of fake reviews. It looks like some Google account holders were in conflict with a provider of specific colocation hosting services who seem to operate in the same building, where one of HostColor's virtual data centers is. In the business of delivering hosted IT services, often tens or even hundreds of providers of Web Hosting and Cloud services use one and the same physical facility to create data centers. Owning a telecommunication facility building has long been more a real estate and property management business, than an IT one. So, at some point in 2022, a number of Google account holders obviously decided that as HostColor operates at the same address as another company they dealt with, this is a good reason for them to start a smear campaign with negative Google reviews.
It took HostColor's team months to correspond with Google, providing them with proof that the company and the individuals mentioned in the negative reviews have nothing to do with us. We have spent hours communicating with Google's staff members who lacked basic cognitive skills and were unable to see and analyze facts. Eventually, we ended up speaking to someone in Google who was able to understand that HostColor has been hit by fake reviews and those were removed from our profile. The fake negative reviews, however, have been kept online for more than 4 months and they have inflicted us with a direct loss of business. Thousands of prospective new customers, we would have provided with good, custom-built Cloud Hosting services have been influenced by Google's reviewing system that they did not find a reliable IT hosting service provider.
At the end of 2022, Google finally fixed the issue and removed the fake negative reviews. HostColor has few genuine negative reviews, posted on our Google profile from our own clients. These clients have been with us for more than a decade. At some point, they obviously decided that we deserve a negative review. We want to have their negative reviews in our profile to remind us that there was a specific moment when we did not do a good job. Even the most well-organized business organizations make mistakes. We know that in business when we make a mistake, we must apologize and then keep working.
User Reviews And Ratings Turned Into Business
It could have been exactly the opposite, however. It is possible that HostColor to approach any of the organizations in the business with "providing ratings" and to buy a few hundred 5-star ratings. Would this make us a better Cloud Hosting provider? No, it would not. However, it would mislead many who search for web hosting services to spend money with us. It is easy to see that we do not have fake reviews on our Google profile. Just look at it and you will see that most of the time we have been great and reliable, but there were specific moments when we did not provide the service that some clients expected to receive. Two hundred fake positive reviews would make us look rock solid like we have never had an issue, never made a mistake. Does it worth using corrupt business practices in order to make more money? This is an answer anyone should answer themselves. We have our own answer.
This publication is not about us, however. When it comes to negative reviews, we guess, that mistakes happen and no one is 100 percent protected from them. This publication is about the thousands, even ten of thousands of marketers who are in the business of "providing ratings" and fake opinions.
The awful practice of "providing ratings" as a service, which is not based on usage, has tremendously corrupted the e-commerce industry. The bad news is that with a growing number of organizations that "provide ratings," the online marketplaces and vendor's rating systems are becoming even more corrupted. Companies like Google, Facebook, TrustPilot, and many more, are becoming enablers of a new dangerous consumer culture - one that allows the creation of fake business authorities. It takes only 200 or 300 positive reviews and a couple of thousands of dollars to turn an online start-up with a few month histories into a reputable company. Who can resist taking an advantage of such an opportunity? Would you resist using it - to buy fake opinions of Goole Users who have never tried your product or service - to boost your business's reputation?
Digital Consumerism Based on Fake "Yeses" and "Nos"
We are becoming part of a new culture of digital consumerism based on fake "Likes", "Dislikes", "Yeses" and "Nos", indistinguishable from the real ones. Organizations like Google, Facebook, Tripadvisor, Trustpilot, and many others who created the business of ratings will face the monsters they have created themselves. Their teams are already losing the fight with fake opinions. The enablers of the social-driven systems of approval and disapproval are becoming the victims of a culture that they have helped establish.
It is becoming virtually impossible for the average online shopper to distinguish between a good and a bad seller. Very few have the time to dig deep into the vendors' profiles to find out whether their positive and negative reviews are genuine or fake! So, expect a negative trend in the consumer culture in 2023 and probably onwards. Be prepared to buy digital services from companies that will not provide what you expect to receive.
Five Simple Solutions To The "Fake Reviews And Ratings" Problem
1. Stay with your current service provider, unless they really fail you.
2. Take your time to make your own research before buying digital services.
3. Keep your business relationships as physical as possible and try to meet and talk to the service vendors.
4. Do not entirely rely on online reviews you can find, unless they are not proven as genuine user-driven (like those in Airbnb for example).
5. Express your opinion and rate vendors you have experience with, without necessarily "punishing" or "praising" them. When you leave reviews or write opinions leave any solid proof of the product or service usage. This will help reduce fake opinions and will improve the overall culture of digital consumerism.
Following these simple suggestions will improve a lot your consumer experience as a consumer with various providers of digital products and services.
Shortly, before publishing this article, the following email was sent to @hostcolor email boxes:
"Do you or your business has any negative content, links, articles or any negative publicity online that you'd like removed or suppressed.
Our company, Brand Accomplished, can suppress negative content/reviews from any platform, such as Facebook, Trustpilot, Glassdoor, Booking.com and a number of other review websites.
Brand Accomplished is based in the United States with over 100 team members (and counting!). Each of our team members work tirelessly to ensure the results our clients have come to expect.
We have helped many clients by clearing their Negative Reviews and Content online and we are incredibly proud of our success rate."
The number of such emails that consumers and business owners receive n their email boxes will be gradually increasing on a daily basis. Our suggestion is to disregard them and focus on strengthening the relationship with your clients.