Rethinking Cloud Storage with VMware vSAN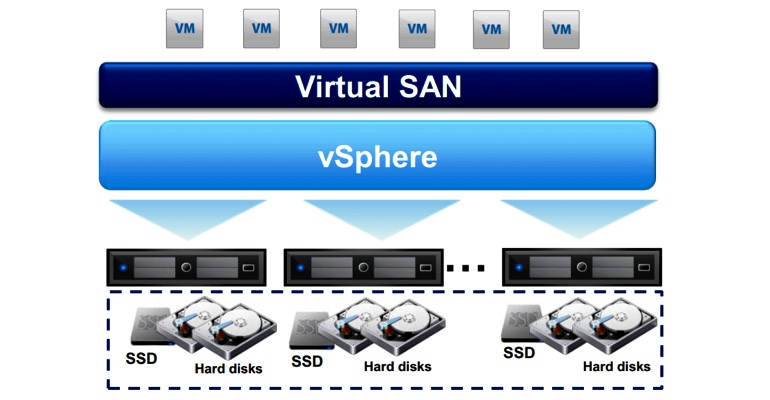 The Virtualization and Cloud computing solution producer VMware announced vSAN (Virtual SAN) - a software defined storage in August of 2013. It went on general availability in March, 2017. Host Color has begun using vSAN because it is simple and easy to setup, plus it is also managed by user-defined policies which are also applied to Virtual Machines and Cloud Servers. Lets take a look at the vSAN and explain how it works.
What is vSAN?
We have been using QSAN's enterprise storage are network appliances and they have worked great for us. QSANs are excellent choice, but at the same time it is another vendor lock-in storage solution which is quit expensive, requires certain expertise to configure and manage and more. vSAN represents an alternative to vendor lock-in SANS as it is implemented at the kernel level. vSAN is not affected by performance disadvantages of the Virtual Storage Appliance (VSA) which has been designed to be used from small and middle-sized businesses compared to physical SANs that are quite expensive. Unlike Virtual Storage Appliance technology, the VMware's vSAN is built for enterprise use. vSAN's purpose is to take local storage located in individual servers and turn it into shared storage area network that can be used by Hight Availability, vMotion and other VMware services.
vSAN is presented by VMware as "Hyper-Converged Infrastructure solution". It is implemented at the cluster level. It can be enabled in just two simple steps, but at the same time offers many advanced options. The administrators can define storage policies to provide the needed availability to Virtual Machines and Cloud Servers at certain cost and at the best performance. A great feature of the vSAN is its scalability. Administrators can add additional storage within an ESXi host (up to 42 drives) and scale it out by simply adding another 32 ESXi storage nodes (hosts) into the cluster.
vSAN's Requirements
vSAN requires 3 - 32 storage nodes per vSphere cluster; Hight Availability must be enabled for the cluster; 1 SSD and 1 - 7 spinning HDDs, that create a disk group; 1 GbE minimum, with 10 GbE recommended; vSphere and vCenter; VSAN license key.
The SSD storage is used for caching only in the vSAN. VMware's best practice says that 10 percent of the storage space in each disk group must be SSD to ensure there is enough space for caching. Each host can have 0 to 5 disk groups. Any host with zero of them can run Virtual Machines like other hosts, but storage requests will go to the other vSAN nodes.
VMware has tested around 2 million IOPS in a single cluster, and the results shown that only a 10% hit to CPU performance. Ten percent might sound like huge number, but it is not actually. Any VMware ESXi based servers usually run around 50% CPU utilization. An extra 10% hit would not affect performance of the Virtual Machines. Each vSAN storage cluster supports up to 4400 terabytes of storage. This space is given directly to vSAN to use.
How Does VSAN work?
VSAN maximizes available storage space. It is implemented at the VMkernel (the liaison between virtual machines (VMs) and the physical hardware that supports them) level to maximize performance. This requires SSD drives for caching to maximize disk performance. It also requires at least 1 GbE (preferably 10 GbE) internal network. To maximize space, all Virtual Machine Disk (VMDK) files are thin provisioned and no parity or mirroring RAID is employed on the hosts. Capacity can be increased by adding SSDs or HDDs to a host and giving vSAN access to the new ones.
After the vSAN is properly licensed, enabling is done by checking the box for vSAN in cluster. If the High Availability has already been enabled, the administrator needs to temporarily disable to configure the vSAN. Once the box is checked, the main question is how vSAN should get the disks it needs to work. This could be either automatically or manually? Automated option means that vSAN will automatically use all the SSD and the HDDs that it finds, not used elsewhere in the system and will create disk groups automatically. Whoever wants more control over which storage disks has to manually configure them.
Storage Policies in VSAN
vSAN turns any local storage into shared network storage. It allows for different policies to be setup and applied to Virtual Machines (Cloud Servers) and that storage system automatically enforces them.
A single policy (not visible in the Web Client) is created and used by everything that uses vSAN. It is configured to tolerate the loss of a host, disk, or disk group by setting Failures to Tolerate to one.
What vSAN Does To Virtual Machine Disks (VMDK)?
vVSAN looks at the storage policy assigned to each Virtual Machine and automatically applies it, placing each .vmdk file on disks it chooses. If the system is set to tolerate one failure, vSAN would create 2 copies of the disk, each on a separate host.
How Does VSAN Handle Failures?
vSAN is a fault-tolerant and keeps operating in the event of a disk, network, or server failure. Its ability to handle failures depends on the storage policies. There would be no data loss in any case as writes are not acknowledged to the Virtual Machines until all copies on all hosts have acknowledged the write as complete.
Host Color And Software Defined Storage?
Host Color's offers Virtual Data Center (VDC) and data center as a service (DaaS) Cloud computing services, delivered from our U.S. and European data centers. We use VMware as a Cloud automation platform to create and provision Cloud Server Hosting - Public Cloud, Private Cloud and Hybrid Cloud services. Host Color also builds software defined and policy-driven Dedicated virtual data centers for our clients based on VMware's vSAN technology.